A Bathroom Remodel can Create the Home You've Been Looking For.
When you consider remodeling your home, what rooms do you think of first? In many homes, the bathroom is overlooked when remodeling a house. Because bathrooms are less visible, they often get moved down the list when considering what to change first. However, a new bathroom design can greatly increase your everyday enjoyment of your home.
Remodeling your bathroom personalizes your home, making it reflective of your tastes and creating a functionality that suits your needs. A bathroom can be formed in one's own image: with some work, it can become something you don't work around, but that works for you.
The question then becomes: what do you wish your bathroom could do better? Is it crowded or difficult to navigate? Is it an overall poor layout or design? Are the cabinets and fixtures unattractive or outdated? Does your bathroom fail to "wow," or does it just not feel like home? All of these problems can be rectified with a remodel or redesign.
In most bathrooms, the most important facet of a remodel is the vanity. The majority of your time prepping and styling takes place in front of the vanity. To truly maximize your enjoyment of every aspect of your home, you need a vanity that reflects the way you use your bathroom can transform the space into one that is more useful. Two pictures from Grand Woodworking's recent projects illustrate different ideas that can spur your creative spirit.
For the Seligman residence, it was important to construct a thoroughly modern look. Clean, simple lines and minimalist satin nickel hardware capture current trends and give functionality without being distracting. A double sink vanity makes the most of the space and allows the room to have a more open layout. Crown moulding, window trim, and wall panels continue the clean angles of the room with a modular feel.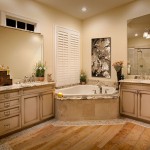 The Soars residence chose a more traditional look. A distressed ivory finish and antique nickel hardware create an antique feel to the room. Because all our designs are custom built, a variety of drawer and cabinet sizes are available to fit your needs. This allows you to take into account how you use the room and imagine a space that conforms to your needs.
These are only a few of the ways a remodel can transform your present bathroom into something that is beautiful and functional. Grand Woodworking offers a variety of decorative options. You can select any number of high-quality hardwoods such as oak or walnut, or even use reclaimed or recycled wood for historic and ecologically sustainable designs.
Grand Woodworking has over 30 years experience exceeding customers' expectations, and our design team specializes in guiding you through the creative process from idea to installation. A recent news posting describes how effortless Grand Woodworking's furniture creating process is, and our customer reviews and portfolio speak for themselves.
To find out how Grand Woodworking can transform your bathroom into an oasis of relaxation, call them at 239 594 WOOD (9663), or visit www.grandwoodworking.com.